Q: How do we contact you?
A: For general inquires [email protected]
For existing orders only, must provide order number [email protected]

Q: What is the difference between Tea Party size and More to Love size?

A: Tea Party size has bendable legs. Ideal option for positioning on the shelf. More to Love dolls are curvy and legs do not bend.
(see image below for side by side comparison)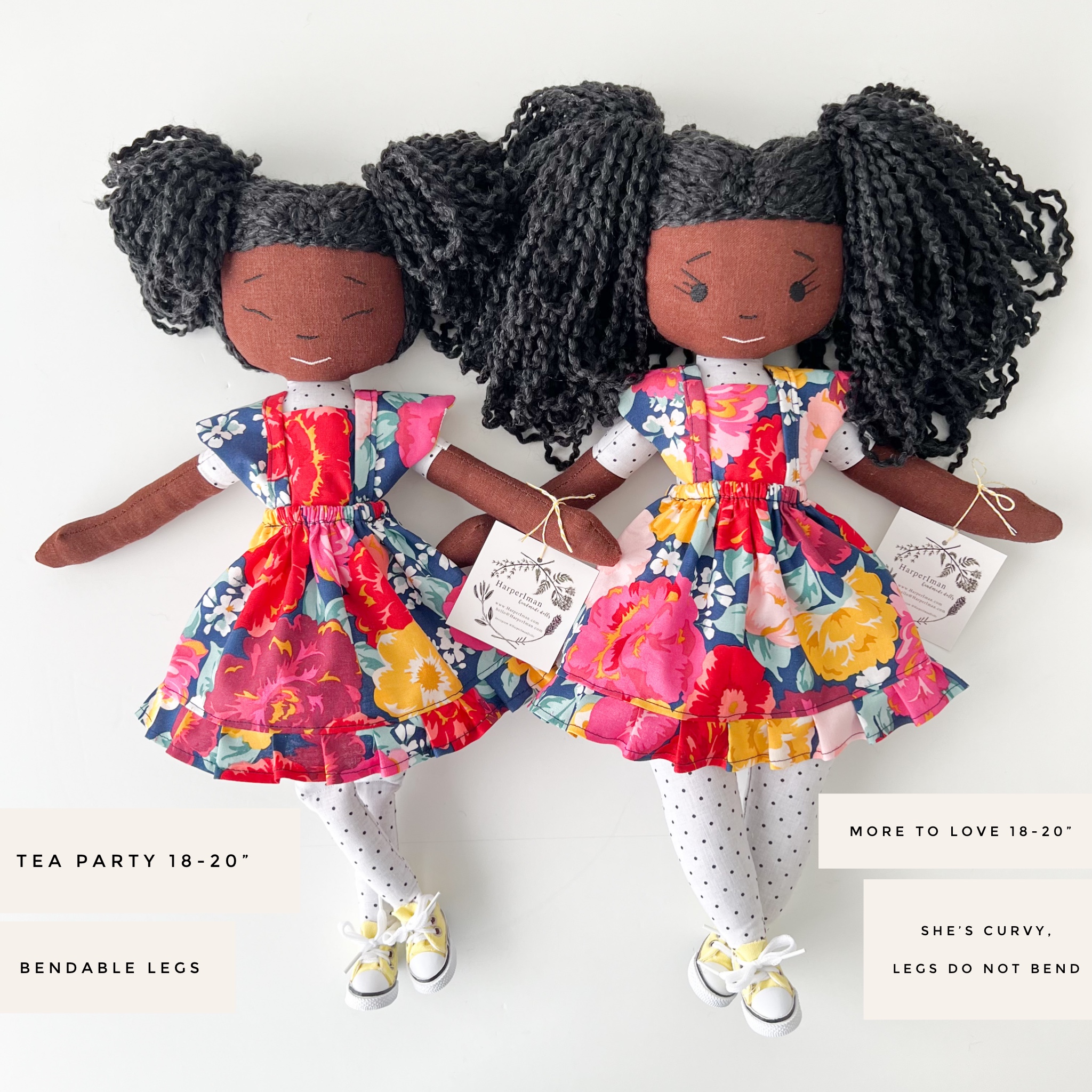 Q: When will my order ship?
A: Usually 6-12 weeks from date of purchase. Please refer to your order confirmation email for estimated ship date.
Q: I need my order by a specific date. Can I still pay the rush fee?
A: As of January 1, 2021 there is a $45 rush fee if you would like your doll shipped 15 business days from date of purchase. Contact [email protected] immediately after placing your order to make this request. If able, we will send you an invoice. Make sure to include your order number in the subject line.
Q: Can I request a shade change only on a doll?
A: Yes, please use the notes section at checkout to leave us a note. For example, Penelope is shade 3, if you would like to order Penelope in shade 2, write "shade 2" in notes at checkout. Please refer to shades below. (color darkness may slightly vary depending on your screen lighting)
Q: How can I place a custom order?
A: We are not accepting custom orders at this time. If you placed an order during the waitlist preorder you may email us your custom requests [email protected] Make sure to include your order confirmation number in the subject line.
.......
Q: Your website says sold out. When will you accept orders again?
A: We will be accepting 300 orders on May 15, 2023 at 6pm PST. We limit each release to 200-300 dolls and have been selling out within the first two minutes of each release. We are working on expanding production so that our dolls can be accessible on a regular basis, but please keep in mind that they are handmade and to keep the same quality of our dolls this will take time.
Q: Am I able to track my order?
A: Yes! Once we package your order and a shipping label is created, You will automatically be sent a tracking number for your package via email. (sometimes it ends up in the spam folder)
Q: How do I place a custom order?
A: Please refer to our "ORDER A CUSTOM DOLL" tab on our website for custom ordering info. From mobile, the tab will be at the bottom of the page. From web, you can find the tab at the top of the page. We are currently NOT accepting custom orders.
Q: Do you ship internationally?
A: Yes, Canada.
Canada - $50USD
Q: Do you accept returns/exchanges?
A: No, all sales are final. Please email us with any questions/concerns prior to placing your order to ensure that you are making the right decision before you purchase. Every doll is handmade to order. Should there be any issue with a doll received, contact us within 3 business days of receiving your order at [email protected]
Q: Can I cancel my order ?
A: Of course. However, if you cancel BEFORE your scheduled ship date you are subject to a cancellation fee of $10.